About Me
A variety of interests can be seen as you view my work,
but the one constant is the pull of nature reminding us who we are.
Artist's Statement
---
Art transcends.  Like poetry, it provides the voice that we all hear and sense through collective experience deep in our DNA dating back to our ancient ancestors.  Through a memory we can't recall, our hearts know so much more than we could ever believe.  True art speaks to that part of us, the knowing part, the one that is on a constant journey to our own beginnings –only to see it for the first time.  Images of nature bring us more than just references of beauty; but rather, of true abundance.  It's not a reminder as a hope and dream, but a deep knowing that surely this is our own true essence.  Abundance of grace, inescapable beauty, natural flow, and the truth of our connection to all that is, is laid out before us just for the claiming.  Abundance that is our essence.  Through this dance with imagery and collective memory, we see and sense our own effortless possibilities.
As a Native American descendant, I have always related strongly to nature and particularly to water.  Both water and ponds have been a subject of focus for many years, but recently landscape has worked its way into my heart. My journey has been from the micro to the macro, and here I am at this transition.  Whereas most of my earlier work was the close-up study, it has now moved to include qualities of atmosphere and the grander view.  It's a challenge I welcome and embrace like a new love.  One consistency will forever remain though—and is what is most profound in art for me—the deep connection to and sacred space of creation and creativity.  This force and energy is what gives rise to imagination resulting in not only the manifestations our deepest longings, but also the key to our own being.  Every single blade of grass and rocky hill is singing this song.  I just want to hum along.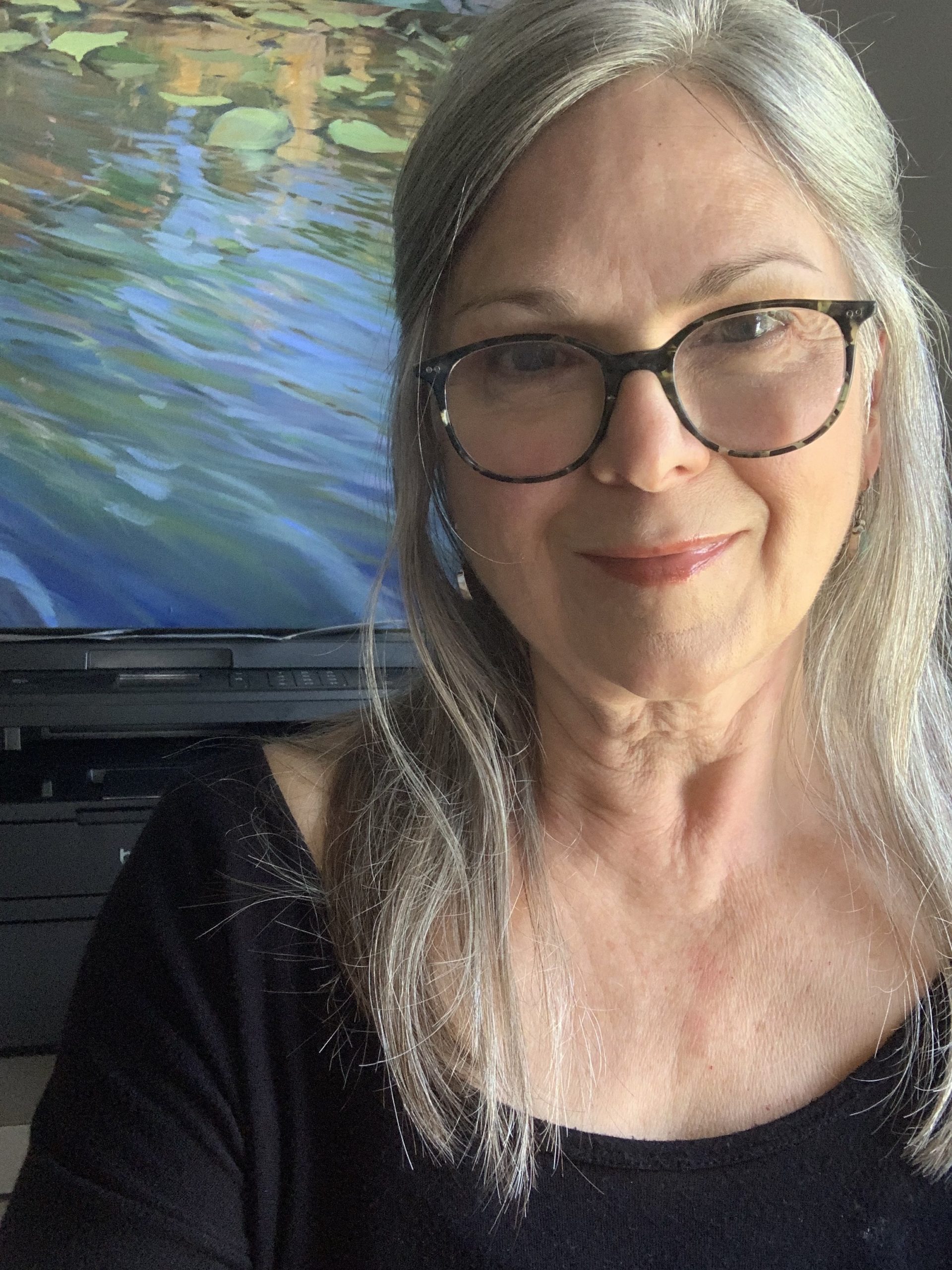 Educational Background
Bachelor of Fine Arts, Phillips University
Masters of Education, Phillips University
Summer Studies-Art, Northern Illinois University
Private Student, emphasis in color studies, taught by Nancy Honea Bragg in Atlanta, GA
Organizations and Memberships
Atlanta Artists Center
Oil Painters of America
Dayton Visual Arts Center
Dayton Society of Painters and Sculptors
Galleries and Publications
---
Personal Shows
---
Garden Art Show – Inman Park, Atlanta, GA – October 2020
Featured Artist-Gentle Wind – Columbus, OH
"Focus on Perceptions" -The Winds-Yellow Springs, OH
"Fluidity—Movement through Light and Water"
Individual Show – Rosewood Arts Center
Individual Show – Oct.-Feb. 2012-13 Featured Artist-Visceral Gallery
"In Awe of Nature" at Vista Gallery, Featured Artist – Atlanta, GA
"Awakening" – Solo Exhibit – The Winds  2006, 2007, 2009
"A Midsummer's Night's Dream" – One Woman Show – Dayton, OH DVAC – Aug. 2013
"Transparency"  – Solo Exhibit – The Meadowlark 2014  March-May 2014
"Emotion in Motion" – Solo Exhibit – Glen Helen Atrium – July 2014
"EnCompass"- Solo Exhibit – DSPS – November 2014
23rd Annual Koi & Goldfish Show – September 2017
Art for Life – Group Art Show and Benefit – April 2019
Illumination and Color – one woman show – Arthaus Gallery, Atlanta – April 2019
Juried Shows
---
Art for Life – American Cancer Society – Atlanta, GA – April 2019
Skyline Arts Services – Houston, TX
Vista Gallery – Atlanta, GA
Atlanta Botanical Gardens Art Show
Atlanta Artists Center
Rosewood Gallery – Dayton, OH
Dayton Visual Arts Center – Dayton, OH
Dayton Society of Painters and Sculptors-Spring 2012 – First Place Award-2012
The Cannery Gallery – Dayton, 2010-12
Visceral Gallery – Middletown, OH, October 2012
Makana O Hawaii at Mauna Lani Bay Hotel – Hawaii, 2012-13
Almost Candid-Fine Arts Gallery – Kingston, WA, 2013
Elements of Expression – New York, September 5, 2013
Lisbon International Contemporary Exhibition, invited guest artist – Lisbon, Portugal, October 2013
COCO VIVO Fine Arts Gallery – Charleston, SC 2014
COCO VIVO Fine Arts Gallery – Boothbay Harbor, ME 2014
Antiques and Garden Show – Nashville, TN, 2015
Eastern Regional Exhibition – Oil Painters of America, 2016
Eisele Gallery of Fine Art – Cincinnatti, OH, September 2016
1st place Award – Atlanta Artists Center, October 2016
Honorable Mention (2) Atlanta Artists Center, September 2016
26th Annual National Juried Exhibition of Traditional Oils- Oil Painters of America May/June 2017
Eastern Regional Exhibition Anderson Fine Art Gallery St. Simons Island, GA Nov./Dec.2017